Diversity in Voice: Animation Workshop
ACTRA Toronto proudly presents the Winter 2023 Animation VO & Vocal Health Workshop as part of the continuing Diversity in Voice Initiative.
The Diversity in Voice Initiative is open to members of the Diversity & Inclusion and outACTRAto Committees.
The goal of the Diversity in Voice program is to provide vocal performance training to performers from underrepresented communities. The ACTRA Toronto Diversity & Inclusion Committee and the ACTRA Toronto Voice Committee developed this initiative to grow the talent pool of skilled diverse voice performers by providing vocal coaching for ACTRA Toronto members who identify as Black, Indigenous, People of Colour, or 2SLGBTQIA. Following the success of the three previous Commercial VO & Vocal Health courses, as well as the Animation Workshop, members can register now for the next round of training for animation voice and vocal health performance!
This weekend course will provide training on Animation Voice Over & Vocal Health with vocal instructors Alicia Richardson, Ana Sani, Carlos Diaz, Julius Cho, Steph Seki, and Thalía Gonzalez Kane. The course will take place via Zoom and up to 25 members will be chosen to take part.
Members of all experience levels are encouraged to apply!
Performers will get a total of 10 hours of instruction over three session dates. The registration fee is $75.00*.
To be eligible for the program, applicants must complete and submit the Application Form below by 5 PM on Friday, November 25, 2022.
*Members experiencing financial hardship who require assistance with the registration fee are encouraged to reach out to ACTRA Toronto.
Please note, applicants must be ACTRA Toronto members (Full Member, Apprentice, or AABP) in good standing and be available for all three sessions.
WORKSHOP DATES:

Session One: Friday, January 27th, 2023: 6–8 PM via Zoom

Session Two: Saturday, January 28th, 2023: 10–2 PM via Zoom

Session Three: Sunday, January 29th, 2023: 10–2 PM via Zoom

---
Application Form
---
Your Vocal Coaches
JULIUS CHO is a voice actor known for his work on the anime Bakugan: Battle Planet for five seasons, Paw Patrol's Special: Ready Set Rescue, and currently Agent Binky: Pets of the Universe.
He has a number of upcoming animation projects on networks such as HBO Max, Apple TV+,Cartoon Network, Treehouse TV, Netflix and Nickelodeon. He also voiced several brands such as Goodlife, Mastermind Toys, Bell, and Petro Canada. He might have seen him on TV in such shows as Kim's Convenience, What We Do In The Shadows, CBS' Ghosts, and is currently a recurring on CTV'S Children Ruin Everything Season 2.
---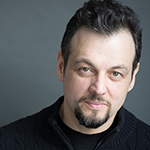 CARLOS DIAZ is an actor, a writer, director, acting coach, and a father working in Toronto. He has worked in voice over animation, commercial voice over, film, radio, television, and theatre for twenty four years. Carlos was the recipient of the first ever Rolling Rock Best Actor award, has been nominated for an ACTRA award for Outstanding performance in voice in 2014. He was also nominated for three Gemini awards for Best ensemble (2007-2009), and was nominated among many notable others, for the 10 Most Influential Hispanic Canadians in 2010, for his humanitarian work with Habitat for Humanity Chile.
---
THALIA CONZALES KANE is a queer, Ecuadorian-Canadian multidisciplinary artist and theatre scholar. She has worked as a performer, voice-over artist, playwright, director, designer, composer, choreographer, and producer in Canada, New York, Atlanta, the UK, Ireland, and Sweden. She is a councilor for ACTRA Toronto and ACTRA National, co-chair of the outACTRAto committee, and the Artistic Director of Crave Productions. Thalía was named an LGBTQIA+ artist to watch in 2020 by Playbill.
---
ALICIA RICHARDSON is an actor/writer, and vocal coach from Boynton Beach, Florida. She graduated from York University's MFA Acting & Diploma of Voice Teaching Programs. Now a Permanent Resident of Canada, Alicia calls Toronto her home. Her body of work spans television, film, theatre, and voice-over. Recent acting credits include: Private Eyes (Global), Ready or Not (Fox Searchlight), and American Woman (CBC Films/ Telefilm Canada). As a voice and dialect coach, Alicia has worked for The Shaw Festival (Trouble in Mind), Soulpepper Theatre Company (Ma Rainey's Black Bottom, The Brother's Size, Jesus Hopped the A Train), and as a member of faculty at Sheridan College since 2016. Recent writing credits: #WINNING (short), The Memory Surgeon (short: official selection for Pinewood Studio's Lift Off Sessions July 2020), Sweeter (as Playwright-in-Residence of Young People's Theatre), and Solve for X (as Playwright-in-Residence of The Driftwood Theatre Group). Follow her adventures on social: @leesheelovesyou
---
ANA SANI is a two time ACTRA nominated actor who has been lucky enough to work in many film, tv and animation projects! She voices Izzy Moonbow in My Little Pony: Make Your Mark and Tell Your Tale and you can hear her as the iconic Strawberry Shortcake in Berry in the Big City. You might recognize her as Anika in The Boys or Tessa in Ruby and the Well. Other notable credits include Piper in Mysticons, Robin and Matilda in Angry Birds: Summer Madness, Emily and Veronica Venegas in Bakugan & Lucia in The Dragon Prince. She has also been the voice for audiobooks by incredible Canadian authors and completed many commercial voice over campaigns for large brands including McCafe, RBC and Canadian Tire. She's also an animation writer & coordinator, video editor and is part of the sketch duo Word to Your Mother. In her spare time, she loves playing video games, annoying her adorable cat, Aero, and playing the piano! @anasani14
---
STEPHANY SEKI has been working in various roles on animation voice records in Toronto for 13 years, including Record Assistant, Voice Director, Voice Actor, Casting Assistant and Theme Song Composer.
She has been a Voice Actor for 7 years and is in the main or supporting cast of shows like: Wishfart, Mysticons, Hero Elementary, The Zhu Zhus, Beyblade: Shogun Steel Stephany has Record Assisted and Casting Assisted over 50 different Animated Series and movies including, The Breadwinner and PJ Masks. She has been a Voice Director for 4 years and is the current Voice Director for PAW Patrol as well as web and app games for other cartoon series. Stephany draws upon her enjoyment of studying languages and studying/performing music to find parallels with the musical nature of voice acting where cadence, dynamics and performing for an audience are all key.