If you would like to add a tribute to a deceased ACTRA Toronto member, please send text and a photo to Jennifer McGibbon. While we will make every effort to preserve the spirit of material submitted for posting, ACTRA Toronto reserves the right to edit or omit any material for length, style, content or legal reasons.
Note: Tributes are listed alphabetically by last name.
Len Birman
September 28, 1932 – February 10, 2023
- by Matt Birman
Leonard Birman has left the stage, exiting his long and fabulous life at 90 years, and passing peacefully at Cedars Sinai in Los Angeles on February 10th.
Len was the son of Maurice and Anne Birman, brother to David and Norton and father to Matthew. His wife Ruby predeceased him after 56 wonderful years together in 2020. He is survived by his two loving sisters-in-law, Marilyn and Naomi, his dear grandchildren Jack and Spencer who loved their "Poppy" like mad and sweet daughter-in-law Neesha. Uncle Lenny also leaves behind beautiful nieces and nephews Elissa, Wendy, Alden, Perry, and Sheldon.
One of Canada's most respected actors, Len had an almost 50-year career spanning theater, film, radio, and television from the far reaches of the globe to his crazy commutes between Montreal, Toronto, New York and Los Angeles. Both he and wife Ruby were trailblazers in the industry, when live television and radio were the norm. A multi-award winner, it is hard to know where to begin the saga of his wonderful career.
He was also an accomplished multi-medium artist who loved working in everything from watercolor and oil to clay and bronze. His imagination and creativity were boundless.
He could grab a spark of illumination from the tiniest moment, giving his attention to detail, to the little things in life he held most importantly, all the qualities that made him a great listener, a phenomenal storyteller, and a loving, caring friend. He was grounding, he was strength, and he was knowledge. While often an enigma, he was a philosopher and a poet, a true gentleman, and to boot, a suave and styling dresser!
He was a lover of a good joke, whether borscht-belt gems or a corny old chestnut and he'd often sit for hours retelling our favorite jokes repeatedly.
Somehow, we'd laugh every time.
CAYLE CHERNIN (1947 – 2011)
Cayle Chernin
December 4, 1947 – February 18, 2011
– by Rosie Shuster
Cayle Chernin was my best friend, my soul sister, and an honorary Shuster. We met as teenagers in the '60s in Eli Rill's acting class in Toronto. Together we had our consciousness raised by feminism and lowered by sex, drugs, and rock & roll.
In the mid-'70s in LA we shared a suite at the fabled Chateau Marmont Hotel. Cayle knew everyone from "Jack" on down the food chain.
With her mad people skills, she bonded easily. Indeed, she got along so famously with my dad, I was sure if my mom went first, Cayle would wind up my step-mom.
Time was elastic for Cayle. How did she pack so much in when she moved at such a leisurely pace? Cayle loved life and she loved art and she took exquisite delight in the blurred boundaries between them.
And she was full of surprises. She read to the blind. She helped smuggle hoards of Jews out of Syria. And then suddenly, she morphed into a blonde gentile actress named Lorraine Sinclair. Lorraine performed a killer one-woman show of Erica Jong's Fear of Flying in a hole-in-the-wall theatre inside a subway station.
A year ago, when it seemed my mom was dying, Cayle stuck by my terrified jet-lagged side in the ER all night long. When I was told there were absolutely no beds to be had upstairs, Cayle skillfully schmoozed the beleaguered night nurse, bonding with her over provincial budget cuts and over-worked nurses' schedules. Miraculously a bed appeared.
In June, 2010, Cayle was diagnosed with advanced ovarian cancer. Refusing to feel sorry for herself, she kept working. Supported by her husband, actor Dwight McFee, Cayle did a play, a feature film sequel which she' helped to initiate, a voice-over and a TV show. Then, from her orchid-filled salon in Palliative Care, she taped a podcast, hosted an acting class, recorded a two-hour ACTRA interview and dubbed lines for Down The Road Again.
One grim night when the cancer was winning, I came home fried from visiting Cayle in the hospital and flipped on the tube. Eerily, in front of an island of groceries, I saw that beatific Cheshire grin. I lunged for the phone. "Cayle, are you in a commercial?" "Yes," she purred slyly. "Twas me – amidst the meat."
Arguably, Cayle had the best smile ever. A dentist's daughter, she was flossing right up to the end. Cayle, we shall miss who and what we were, when we were with you. Keep grinning down at us from that big bowl of stars.
Rosie Shuster wrote for Saturday Night Live. She is the daughter of comedian Frank Shuster of Wayne and Shuster fame.
Bob Clout
January 20, 1934 - September 4, 2011
– by Jim Calarco
"The curtain came down on the final act of the life and times of Bob Clout on Sunday, September 4, 2011. Produced by Donald and Helen Clout, Bob debuted in St. Catharine's on January 20, 1934. He leaves behind his leading lady Pat and in supporting roles his children, Mark, Barry and Kelly." (North Bay Nugget, 09/06/2011)
I first worked with Bob in 1973 in the Woody Allen play, Don't Drink the Water. Over the next 38 years we appeared together many times both in film and on stage and the one thing that remained constant was his love for performing and his unwavering insistence that I learn my "damn lines."
Bob was a true Renaissance man. He wrote, directed and acted but was also an accomplished athlete who excelled in baseball, canoe racing and basketball. His love of adventure took him from the Queen's garden party at Buckingham Palace to the jungles of Indonesia where he discovered that he really did not like snakes.
He once observed that the one good thing about getting parts at his age was that they tended to be roles that required him to sit down for most of his scenes.
Bob is also remembered for his wacky sense of humor. After leaving a film project, Bob insisted that we had to wait outside in the pouring rain for another ten minutes. When I asked why, he replied, "Because that's how much time I have left on the parking meter."
Bob Clout was and is a good friend to those of us who knew him. He will be missed and always remembered.
"This was a man!"
- Wm. Shakespeare
PETER DONALDSON (1953 - 2011)
Peter Donaldson
October 29, 1953 - January 8, 2011
– by Colin Mochrie and Deb McGrath
In William Shakespeare's Timon of Athens, the title character is described thusly: "Every man has his fault and honesty is his." The author could just have easily written these words about the actor who portrayed Timon, hundreds of years later, in one of the finest performances ever seen at the Stratford Festival. The truth that Peter Donaldson shared in every performance of every character he portrayed was no different than the truth he lived every day of his life.
Pete was an actor's actor, loved by his colleagues for his professionalism and his seemingly effortless talent. Pete set the bar for everyone he worked with. He thrilled, scared, and inspired audiences. He held dear the craft but never the trappings.
Pete was a golfer's golfer. He had a powerful and beautiful stroke, the envy of anyone who had the pleasure to play with him. He held dear the game but not the trappings of the golf world.
Pete was a man's man. Comfortable whether sailing a boat, building a deck, tinkering in the garage or just sitting back with a drink and telling stories, naughty and nice.
Pete was a passionate family man. And in this passion he was happily caught in the trappings. He adored his girls: wife Sheila McCarthy, daughters Mackenzie Grace and Drew Donaldson. Watching Pete love his girls sometimes made your heart skip a beat, the love was so quietly intense.
There should be a new phrase: a friend's friend. Pete was always there for those in his circle. He would help you when you were down, ground you when your head was too big and fill your heart with pride when you needed it.
We did not know Pete terribly long, but we will keep him close with a lifetime of missing him.
STEN EIRIK (Gustafsson) (Hornborg) (1952 - 2015)
Sten Eirik (Gustafsson) (Hornborg)
March 23, 1952 – April 1, 2015
Sten Eirik's love for his family and passion for the arts led him to many places and he touched the lives of many people wherever he went.
Sten was born in Sundsvall, northern Sweden to Karl-Fredrik Gustafsson and Eva Maria Hornborg. He spent his childhood in Sweden where he developed a passion for the arts at an early age. He inspired his brothers Alf and Lars and their friends to stage dramatic cowboy games, in which he somehow always managed to dodge every bullet, just as his fictional heroes did. In 1964, his family moved to Port Hawkesbury, Nova Scotia. He often invited his parents, brothers and friends to watch 8mm monster movies in his basement theatre, complete with snacks and milkshakes. He attended Kings College School in Windsor, Nova Scotia to finish high-school, and there he met his first wife Andrea Lynn (Stephens), who was to become the mother of his two sons, Jude and Joel.
In the summer of 1969, the family moved back to Sweden, and Sten began to study drama/theatre/film at the University of Lund. In 1973, he returned to Canada to pursue stage acting where he worked with Mermaid Theatre, Neptune Theatre, Halifax Independent Theatre, Stratford Theatre Festival, Festival Theatre in London, and continued his studies in drama, creative writing, directing and acting in many university productions at Acadia University. He was musical – he played violin at an early age, and later guitar, singing and song writing.
During the 1980s, he returned to working with theatre in Sweden, not only in production, but also in teaching drama at Vimmerby Folkhögskola, Kalmar Länsteater, and direction with Norrby Theatre in Northern Sweden. In 1987, he returned once again to Canada to work with Neptune Theatre's Young Company and launched a career in acting for TV and film which took him from Wolfville to Halifax and eventually Toronto. Sten worked a variety of part-time jobs to support himself as a "starving artist." Sten's love of music and writing also inspired him to write a number of poems, screenplays and musicals, as well as publish two novels, the most recent being The Intended: a Pirate's Confession (2014). Remarkably, he also managed to find time to obtain his Masters in Psychology at the Adler School, which then became the other side of his working life as a psychotherapist.
In his final years, Sten rediscovered directing, and in 2011 launched Scarborough's only professional theatre company: the Guild Festival Theatre. Sten and his second wife, Stephanie, through the Guild Festival Theatre, also partnered with the City of Toronto to implement Speak like a Champion, a voice and speech-training program for youth and young adults with special needs.
Most recently, Sten directed Living Curiosities for the Drama Department of the University of Toronto while awaiting medical treatment. Performances met with great reviews, standing ovations and a personal visit from the playwright. At the same time, he was in preparation for a promising upcoming season at the Guild Festival Theatre. Sten passed away very suddenly at St. Michael's Hospital as a result of complications from early chemotherapy treatment for Burkitt's Lymphoma. Everyone believed there was so much more to come from Sten's life.
Sten had a perpetual ability to play like a child and an imagination beyond this world. He also had a way with words – from the cowboy stories of his childhood to meticulously crafted historical novels and academic journal articles on psychology. He was an admired "Farfar" to his grandchildren and the best bedtime storyteller ever!
So many people have been touched by this busy and varied life that it is hard to believe that Sten is no longer here. But he will always be with us!
John Evans
March 10, 1943 – September 28, 2019
Actor | Director | Producer | Playwright | Creator | Father | Friend
John Evans passed away at home in Toronto surrounded by love on September 28, following a diagnosis of cancer ten months ago.
In both his life and work, John brought passion and fire to everything he did.
As an actor, Evans sought truth. Preparing for the role of the drifter "Lee" in Sam Sheppard's play True West, he would rise in the middle of the night, don his character's filthy wardrobe and walk the gritty streets for hours, inhaling the margins, observing the hustle, and finding his way into the spirit of his character. In 1982, John was recognized for that role by his peers with the Dora Mavor Moore Award for Outstanding Performance by a Male Lead.  "A great honour," he would later joke, that "was immediately followed by a year of unemployment in the great Canadian tradition of ensuring that our actors, at all times, maintain their humility."
John played principal roles in numerous film and television productions opposite actors of note including James Woods, Matt Dillon, William H. Macy, Tommy Lee Jones, Gordon Pinsent, Bruce Willis, Cate Blanchett and Billy Bob Thornton. He brought great precision and deep feeling to his craft and was warm and supportive of those he worked with, but he was not known to suffer fools gladly, and if that happened to include the director, so be it.
John's roots as a Macedonian were central to who he was, and he created and produced numerous concert events for the community at Roy Thomson Hall and other venues that reinforced the profound and sometimes fragile Macedonian connection with the homeland.
In 1986, John married Lyne Tremblay, an actor, dancer and singer best known for her role as "Cassandra" the Siamese, in Cats. John and Lyne's relationship was filled with artistic collaborations including Lyne's award-winning CD Break 'n Enter, and celebrated cabaret shows Gauche, The Decadent Berlin Revue and Cabaret Deco.
Their most beautiful production was that of their two daughters, Michelle and Lisa, both of whom are pursuing careers in the creative arts. John had a remarkable relationship with his girls, by turns, father, mentor and best friend and though Evans and Tremblay separated in 2007 they remained very close friends. Lyne, Michelle and Lisa were by his side when he took his final breath – his passing will be deeply felt forever.
An artist to the end, John finished his most recent work, Standardized Patient, a satirical psychological thriller that explores an academic's fascination with AI as a testing tool for psychiatrists, a week before his passing. Standardized Patient is currently in development with The Buchwald Agency in New York City.
John was the eldest son of Mary and Jim Evans and is survived by his beloved daughters, Michelle and Lisa, his younger brother George and George's wife Nancy, his niece and nephews, Peter, Michael, Katie, his cousin Michael, and Michael's son William, and his grand-nephews River, Luke and Austin.
John Evans will long be remembered for his passion, vision, kindness and raw commitment to cutting through artifice to find deep meaning. He was an original, a rebel, and a man who was profoundly loved by so many.
– by Matt Zimbel
(Watch a video interview with John Evans, recorded on April 12, 2000, for the Ben & Sylvia Lennick Archives.)
Lee Harris
1959-2021
– by Brian Salvas
Lee (Travanna) was born on May 12th, 1959. She passed on June 17th, 2021.
We first met on the set of Dog Park in 1997, then met again on the set of Grizzly Falls in October 1998, where we started our lives together. We married on February 14th, 1999. We last worked as members in 2001. We only stopped performing because I needed to take care of her. So, I fell back on working in the automotive industry.
She wasn't diagnosed with advanced terminal cancer until April 2021. I spent every day with her and the last six days and nights until she passed at Tomkins House palliative care facility in Penetanguishene. I took care of her the best I could all these years. We had a good life together.
We both loved performing, even if it was mostly background work. Just being around sets was interesting and, at times, exciting. We met many famous people.
I remember I was at a Union Members meeting, and Gordon Pinsent was in the audience. From Speakers Corner, I quoted an ode to ACTRA I had written, and Gordon was nice enough to say he enjoyed it as I was on the way back to my seat. In part, it was:
"This group called ACTRA is full of performers,
They come from across Canada's four corners.
So many talented people to meet,
To see them all perform would be quite a feat!"
Well, I've written a new poem in memory of my wife.
"Late at night when I'm asleep,
I dream of Travanna's love so deep,
This gift of love I'll always keep!"
She leaves behind: me, her mother, Donnie Harris (artist), her son Lee, and grandson Kai. We all miss her and will always love her, if only in memory.
Travanna was a brilliant woman. She really loved the ACTRA family. I will love her forever.
DAVID HEMBLEN (1941-2020)
David Hemblen
1941-2020
– by Kate Hemblen
Celebrated Toronto actor David H. M. Hemblen died on November 16, 2020.
Born on September 16, 1941 in England, David emigrated to Toronto with his parents in 1956 and attended high school here. Originally embarked on an academic career, David was pursuing a Ph.D. in Medieval Studies when he caught the actor's bug.  Spotted by Royal Shakespeare Company's Clifford Williams in a student production, David acted in the first season of Theatre Toronto, launched in 1967 with John Colicos, Terry Tweed, Barbara Hamilton and other luminaries of the Canadian stage.
David's stage career included over 70 productions in theatres like the National Arts Centre, Stratford, the Shaw Festival, and roles in regional and local theatres across Canada.  David received a Dora nomination for Best Leading Actor as Dr. Astrov, in Tarragon's production of Uncle Vanya.
As a film and television actor, David was acclaimed for his performances in several films by director Atom Egoyan, garnering a Genie Award nomination for his role in Family Viewing.  David also developed an international following for his portrayal of Jonathan Doors in the television series Earth: Final Conflict.
In addition to his acting skills, David brought a considerable intellect to all these roles.  Over the years, David never abandoned his interest in the literature of England's Middle Ages and was fond of reciting passages from Chaucer to friends and family.
David leaves his cherished daughter, Kate (Catherine Elizabeth) Hemblen, an art teacher, her husband, Glyn Thomas and their two children, David's beloved grandchildren, Anna Thomas and Celyn Thomas who will miss their grandpa and remember their happy times with him. Donations in David s name can be made to the Actors Fund of Canada.
Meg Hogarth
1935-2020
Meg Hogarth passed away on April 8, 2020. An actor and feminist, she served as president of ACTRA National from '90-'91 and as V.P. of ACTRA Performers Guild from '88-'90 and on the women's committee. She participated in the launch of ACTRAWorx, now known as ACTRA Toronto Member Education. She followed up her career at ACTRA by becoming Executive Director of MediaWatch, Canada, an organization that monitored the portrayal of women in media. According to the 60th Anniversary issue of ACTRA magazine, Meg was the first female president of ACTRA National.
In May of 2000, Ms Hogarth recorded an interview with Araby Lockhart for the Ben and Sylvia Lennick Archives of ACTRA Toronto. To honour Meg's service to ACTRA, ACTRA Toronto is pleased to present this 33-minute interview with Ms Hogarth from 2000, when she was in her mid-60s. (Note the original recording cuts out at the beginning. When Ms Hogarth begins speaking she is talking about the corporeal mime artist, Etienne Decroux, who she studied with in Paris.)
Rest in peace, dear lady.
(Meg Hogarth Archive Interview, recorded in May, 2000, for the Ben & Sylvia Lennick Archives.)
STANLEY KANE (1929 - 2015)
Stanley Kane
May 11, 1929 – September 2, 2015
– by Jennifer Higgin, Chair, Act Your Age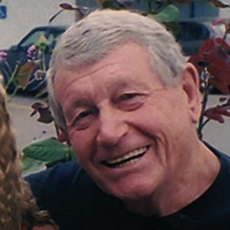 Stan always liked to tell people he was a Scottish gypsy, and enjoyed the disbelieving looks and "yeah sure" chuckles.  But in fact, Stan's mother, Magdelane, was a Scottish Border Gypsy from the Rutherford clan, who were the first horse breakers in North America.
Stanley Paris Rutherford Kane was born in St. Andrews, Scotland.   His mother shared with him the gift of laughter and her love of the poems and songs of Scotland's favourite son Robbie Burns.  His father was a builder, stonemason and bricklayer who was also an accomplished singer and musician.  After Charles passed away when Stan was 14, the array of carpentry skills Charles had learned from his father enabled him to support his mother and sister.
Stan was stubborn and free-spirited. He was offered free tuition and a contract with the Scottish Opera Company when he was 18; they had never heard such a voice. But no, he hated to be bound by contracts and restrictions so he politely declined. He wanted to sing ALL kinds of music. And so he did….singing with big bands, jazz groups and solo concerts.
It was only when he came to Canada that he acquired his love for opera. He was a chorister with the Canadian Opera Company for 12 years and at the same time, was a singer on CTVs' Pig & Whistle. There was never a dull moment with Stan around. His friends in the opera company always had a laugh at his forgetting the words. He would hide behind a tree or a statue and "la–‐la" the words, but he never forgot the melodies. The directors, reluctantly, put up with his shenanigans, as he had one of the most beautiful and versatile voices in Canada. Stan was accepted into the Opera program at the University of Toronto but he was also working at the steel mill in Hamilton and found he could not support a family and go to school at the same time. Years later, the Director Herman Geiger Torel told Stan he had such a world-class voice that they could have found a mentor so that he could continue at the school.
Stan first met Judy Lebane in the opera company, but she was not impressed with his antics. Despite that, he eventually persuaded her to become his performing partner and they appeared together in a variety of concerts. Stan and Judy toured across Western Canada and the northern United States with their duet shows Nostalgia Unlimited and La Scala to Broadway. Stan was indefatigable. When one small town forgot to tell him there was no stage, he built a stage by nailing banquet tables together.
When Stan and Judy ended their touring career, they married and settled in Calgary where Stan founded the Calgary Gilbert and Sullivan Society. He was producer, director, set-builder and designer for all 12 Gilbert and Sullivan operettas. At the same time, he was building their house. At Judy's suggestion, he began to teach singing. Stan was a wonderful teacher because he felt the music and text so deeply. His students adored him, even when he yelled at them to "feel the music." Judy would never sing a concert or do a recording without his coaching and input.
Stan worked for years as a performer on stage and screen and was much in demand as a commercial actor and model.  He landed the print role of Mr. American Express, in which he was shown in a variety of situations, such as walking down the Alaska Highway in his jeans, shirt and boots, finding accommodation, clothing, meals, and travel, all with nothing but an American Express card. One day, Stan heard about a discussion between radio personalities Allan McPhee and Max Ferguson on the CBC morning radio show, in which they doubted that Stan Kane was a real person.  So the next day Stan went to visit the two diminutive men during a broadcast, and loomed over them bedecked in his cowboy boots and hat. Ferguson thought the whole thing was hilarious and acknowledged on-air that Stan was, indeed, a real person. In some radio skits, Ferguson can be heard imitating Stan's brogue.
After his heart problems began in 2007, Stan actually slowed down… a bit! He was encouraged by his friend, the artist Robert Carley, to paint. Some of Stan's paintings will be on display at the Fairview Library in June 2016.
Though many of us remember Stan for his outgoing personality and infectious laughter, he was, at the same time, a very private man who did not openly display his worries and sorrows.  He was acutely conscious of a world where there was suffering and poverty, and expressed his deepest feelings in his poetry.
A Renaissance man, I would say.  We'll miss you, Stan!
Doug Lennox
21 January 1938 – 28 November 2015
– by Tom Prittie
Veteran character actor Doug Lennox appeared in over 75 film and television roles while juggling successful careers as a radio personality, voice actor and author.
Fresh from a peacekeeping tour in the Gaza Strip, the strapping 6'2" northerner was "discovered" by a group of modeling agents as he lumbered through a Toronto department store. Before he knew it, he was the face of Colt Cigars. More commercial work followed fast.
Modeling, though, was just a means of survival for Lennox, whose love affair with radio had started as a child. Encouraged by a friend in the business, Doug headed north with the hopes of breaking into a smaller market. His first on-air job was at CKAR in Huntsville, Ontario, for which he was paid a whopping $50 a week. His silky baritone and programming acumen were a hit, though, and he methodically worked his way south to the CBC in Toronto, where he produced and hosted showcases for Sylvia Tyson and Anne Murray, among others. "Toronto in the '70s was something of a crucible," Lennox once said. "We were doing really innovative things at the CBC; Yorkville was a mecca for independent music. I felt lucky to be a part of it all."
Back in Toronto, Doug slid easily back into his modelling career and by 1973 he combined the look and the voice as a co-host of Juliette and Friends.
The cameras loved Doug and he was quickly on his way to becoming one of Canada's most enduring character actors. He knew nothing about acting, he admitted easily. "But I was a sponge, I just watched and listened."
"Doug was so interested in people," says one-time agent Jonathan LeClaire with whom Lennox maintained a lifelong friendship. "He just loved it all – the connections, the differences, the realization that we're all in this together. He collected stories like others collect coins. He worked with everyone you can imagine, from Mary Tyler Moore to Holly Hunter to Hugh Jackman, but no one was more interesting to him than the last person he met in line at the bank."
LeClaire credits that genuine interest in people with his friend's longevity in a notoriously short-lived business. "He was a lot of fun to be around and had a pulse on every character he played. That's a working actor."
Throughout his acting career, Lennox continued to be a prolific producer of radio content, developing long-form and interstitial series that spoke to Canadians. Many still run in syndication. Jean-Marie Heimrath, President of Standard Broadcasting's Sound Source Networks, remembers his long-time friend and colleague. Doug's programs, including the multi-award-winning Vanishing Century and Journey to the 21st Century, all of which he wrote, produced and voiced, are among the finest pieces of radio I've ever heard."
The mid-2000s publication of Now You Know, a print version of one of Lennox's radio programs, brought him a legion of new fans. The "little book of answers" quickly became a Canadian bestseller and spawned a multi-volume series.
Lennox once joked with a reporter that he might as well change his name to "That Guy." "That's how I'm best known," he explained. "That guy from Police Academy, that guy from the beer commercials, that guy from the radio, that guy who wrote those books…" The moniker didn't bother him a bit. In fact he loved it. "I've had a wonderful career, not just for a Canadian actor, but for any actor," he said. "I'm just a tall kid from northern Ontario. Look at me now."
TED LOVISCEK (1954 - 2012)
Ted Loviscek
19 November, 1954 - 19 April, 2012
– by Dani Holden, written for a funeral for Ted Loviscek held April 27, 2012.
My name is Danielle and I'm Ted's friend.
I'm angry at the fates that brought us all together today for this gathering.
Ted should be with us now, and with family and friends here it could be a comedic celebratory "roast" for him like the shows on television where comics poke fun and jabs at the "roastee." One problem with that scenario is that it would tax us all to the max as how could we say one bad thing about him even in jest taken to the extreme?
Ted was one of the very best people I've ever known. Period. He had the disposition of someone not of this world and he made lemonade out of lemons constantly.
Ted dealt with one serious health problem after another. He had diabetes and had undergone heart surgeries, adrenal gland surgery and other surgeries that dealt with complications from these issues. He was like a prize fighter – bring it on, let's see what else has to be dealt with.
Doctors' appointments almost filled his days. Capricious fun and trivial pursuits, that included researching and writing about bizarre factoids, brought levity and often hysterical shared silliness to his other precious time slots.
Ted had serious writing and performing talents and was often asked to help others with their creative endeavours. He had the most wonderful and wonky sense of humour. I met him at "Yuk Yuk's" at their now long-closed 1280 Bay Street location in 1980. He was performing "stand up" comedy.
I was working there making cappuccinos, waiting tables, and on weekends my duties included crowd control, ensuring that there were enough chairs to squeeze in as many people as possible at each table without the fire department being alerted.
I had just moved from Montreal to Toronto to pursue my acting dream. I tried "stand up" as well and I quickly sat down. Anyway, we've been pals ever since.
Ted was getting ready to start doing "stand up" again and was slated to perform at a club just about now. Ted was outreaching socially by joining many "Meetup" groups. "Meetups" are organized by categories to bring people together who share common interests. There are tons of them throughout Canada and the United States. I never knew they existed before Ted filled me in on them. Ted convinced me not long ago to go to a trivia contest evening at a pub through a "Meetup" group. He thought we'd do well between our combined vast knowledge of all things trivial.
It turned out to be a British trivia night. British sports, music and TV shows that were never aired this side of the Atlantic were the main topics. We were totally lost at sea but of course we had a great time anyway and we met some fun and also clueless people who shared our table.
While Ted was in Sunnybrook Hospital this last time, after being hit by a car while crossing on a green light at Bathurst and Roselawn (he had suffered a fractured knee not requiring surgery and four stitches to sew up a cut on his chin), we were on the phone and I told him he had the most amazing attitude with how he dealt with one huge difficulty after another. Just as he was starting to feel better recently health-wise, this happened.
I asked him how he managed to keep positive and he said he looks at it as an adventure, something to write about. The result of this adventure was more than extreme but he can now share it with his parents, his sister Annie and his beloved Darlene. He died in hospital Thursday April 19. I keep thinking he'll call. Ted shared with me a limitless and priceless gift. His friendship. You kiddo, were so loved.
DAVID MACNIVEN (1966-2021)
David Macniven
November 4, 1966 – June 28, 2021
David Macniven was a longtime volunteer for ACTRA Toronto and ACTRA National. He was an elected Councillor of ACTRA Toronto for 17 years, from 2000-2017. Among the many hats he wore and projects he took on, he served as VP Communications from 2001-2003, working closely with the Diversity Committee on a memorable inclusivity poster campaign. He was VP Finance from 2012-2017. During his most recent years on Council, he was the Executive liaison for the Apprentice and AABP caucuses and the Full Member Background committee and was a committed champion of members who work in background categories. He was also an ACTRA National Vice President, Councillor, and chaired the National Constitution and By-Laws Committee. He sat on the board of Creative Arts Savings and Credit Union.
David was a welcome and scrupulously fair voice on Council. His extensive knowledge of Bourinot's Rules of Order made us smile and helped Council ensure that the rules of our union democracy were followed to the letter.
David's acting career spanned theatre, television, film and improv. He also wrote for stage and film. He was an alumnus of Western University, Studio 58 and NSI's Totally Television Program.
David was loved by many, as an acting colleague and a union advocate. He is missed by Council, staff and colleagues.
He leaves his two children, Styx and Ivor, and their mother Kathryn Rose. A Go Fund Me campaign has been set up by his partner, Mackenzie, to help provide for his children's future.
GINO MARROCCO (1939 - 2019)
Gino Marrocco
December 30, 1939 – May 10, 2019
– by Gerry Mendicino
Gino Marrocco passed away on May 10th, 2019 after a long and courageous battle with cancer.
Gino started on stage and radio at the age of five. He turned professional at 13, working full time as a member of ACTRA and Equity and enjoyed a versatile and lengthy career spanning seven decades, appearing in over 200 TV and film productions as well as countless radio and TV commercials. Co-founder of Backdoor Theatre, Gino wrote and directed many stage productions and provided a showcase for new and established actors and playwrights for over 20 years. He also taught acting workshops at Ryerson University and Seneca College. Gino served as President of ACTRA Toronto for 13 years, National President of ACTRA for two years and served on most ACTRA committees and the Executive for 34 years. He was highly respected as a professional but believed his greatest accomplishments were those of a loving husband and caring father and grandfather. I'll miss you my friend (the older brother I never had) and your wonderful stories about "the early days" and the beginning of live television. You have touched countless lives over the years and will be valued and remembered for a very long time.
GEORGE MERNER (1939 - 2017)
George Merner
October 29, 1939 – August 23, 2017
– by Alexandra Merner
George Willson Merner, 77, died after a long struggle with cancer on Wednesday August 23, 2017, in Toronto, ON. He was born on October 29, 1939, in Kitchener, ON., to Dorothy and Donovan Merner of New Hamburg, ON. George was going to study law after he graduated from Wilfrid Laurier University. But fate intervened with an audition arranged by his music teacher Edwin Fergusson, with George Lambert of the Royal Conservatory of Music. His award-winning performance as Best Actor for Cyrano, prompted his study with Mrs. Gladys Shibley Mitchell. In 1970, Merner received his A.T.C.L., in speech and drama from Trinity College, University of London, London, England.
George Merner had an illustrious 44-year career, as an actor, singer and "Entertainer ExtraOrdinaire". This multifaceted international artist, displayed his versatility in over 150 stage performances, featured films, television sitcoms, Radio and T.V. drama, voice for animations, film dubbing, on camera and voice-overs for commercials. Known for his mellifluous bass dramatic vocals he entertained audiences across Canada and the United States. Merner appeared before royalty and heads of state, including Queen Elizabeth and Prince Phillip. His portrayal of Don Quixote in Man of La Mancha prompted a critic to say, "If there ever was a category of voice called dramatic baritone, this man embodies it!"
To read more, please go to https://www.facebook.com/thesp.mer/
PATRICIA MOFFATT (1930 - 2012)
Patricia Moffatt
December 14, 1930 – June 11, 2012
Canadian actor. Died peacefully at Toronto East General Hospital of pancreatic cancer. This Winnipeg girl started her career in 1954 with Bernie Slade's summer stock theatre and went on to a two-hander on CBC-TV with William Shatner, four plays at the Crest Theatre, a starring role in the National Film Board's ground-breaking original drama, Crossroads (1957) and many other productions – including the cult TV series Strange Paradise – that can still be seen on one medium or another. For more than 30 years, Pat was also Canada's top female commercial announcer.
Thanks to all the kind and loving souls who made Pat's journey a pleasure – the pleasure it should be: her sister Mary (Happy) Tulk of Toronto, brother-in-law Bert Tulk (deceased) and brother James Moffatt (Beryl) of Winnipeg and five wonderful nephews and their families.
Pat left us all a note: "Early in my crazy toboggan ride of life I had the good luck to meet a most beautiful and talented woman, D. J. Hamilton, who appreciated my love for her for 50 years. Together we chose a family of friends and fuzzies that made life a joy. Thanks all, and raise a glass in appreciation." Thanks to the TEGH and the palliative care unit and staff, headed by Dr. Kevin Workentin. Their caring support softened the cruelty of cancer.
A donation to the Actors' Fund of Canada would be greatly appreciated (Actors' Fund of Canada, 1000 Yonge St., Suite 301, Toronto, ON M4W 3K2).
LUBOMIR "LUBO" MYKYTIUK (1943 - 2022)
Lubomir "Lubo" Mykytiuk
October 10, 1943 - Aug 15, 2022
– by Kim Coates
I met my soon-to-be BFF, Lubomir Mykytiuk, in the early 1980s. We were both cast in Molière's brilliant play, Tartuffe, at the Magnus Theatre in freezing Thunder Bay. I was cast as Damis, the bratty spoiled son of Orgon, played by Lubo. As I shook his hand, I said he was too young to play my dad. He replied I was too old to play his son. The barbs were presented, the artistic competition was on and we were attached at the hip for the rest of our lives.
Lubo was a fixture in Canadian theatre and television for over five decades. He worked with a gazillion directors such as Eddy Gilbert, Guy Sprung and Jim Guedo, to name a few. I'm fairly confident most of us in this brilliantly difficult and rewarding profession can say we've seen a play in which Lubomir starred over the years. Paper Wheat, which played in every corner of this country, Death of a Salesman at Stratford, Uncle Vanya at the Centaur Stage in Montreal are just a few examples. TV and film work were nonstop for Lubo in the 1990s. He won a Gemini Award for Best Supporting Actor for his role on North of 60.
My BFF was an Everyman in the truest sense of the word. From his early studies in NYC, to taking and tackling all of his acting roles up until his body wouldn't allow it anymore. He was a sportsman, a golfer, a poet, a jock. He read, he laughed, he cried. He was so unbelievably proud of his Ukrainian heritage. Had he not been 78 years old and ill, Lubo would have been on a plane to Snake Island to help his fellow Ukrainian soldiers. He wasn't joking.
Lubo also taught for a few years at Sheridan College at the request of our good pal, Mark Melymick. At age 72, Lubomir rode his pedal bike from Toronto to Montreal, just because he could. An Everyman and my BFF.
Lubo wasn't afraid of dying. Ever. He was always full of spirituality and love and reflection. Over the years, after countless nights of revelry, walking back to his Bloor West Village pad we would tap the head of this amazing little buddha, which was minding its own business in a park, and share a beautiful thought.
I'm so grateful to have shared so many amazing times with my friend.
I won't forget the last time I saw him as I helped him up a flight of stairs to his apartment. I knew his time with us was coming to an end. But Lubomir still had his twinkle. It was always there. I'm gonna miss you pal. Thanks for letting me ride along at your hip. See you on the other side.
Sweet dreams.
WAYNE ROBSON (1946 - 2011)
Wayne Robson
April 29, 1946 - April 4, 2011
– by Chris Potter
I've been feeling such a sadness whenever the thought of Wayne's passing returns to the front of the queue for 'the things I worry about'.
It was 1989 when we first met. I was 29 and trying to accumulate ACTRA qualifying credits. I landed a TV commercial that would move me one step closer to becoming a card carrying union pro. I think you needed 1000 credits back then… or maybe it was 6… it seemed like 1000.
When I arrived on the set the morning of the shoot, I began to talk and take pictures of everyone and thing. As was my custom at that stage of my 'career'. I approached each job with the same thorough process. As a set visit.
Sensing, perhaps that I was possibly 'newish to the biz', Wayne acknowledged me with a warm hello. I recognized him. Although I didn't know his name, I knew that face.
I tried to stay calm. But inside I was wanting to call people. He was a 'famous guy'. He introduced himself as Wayne. We made some 'actorly' conversation and he returned to his newspaper.
I studied him throughout the day, the way he worked. He knew all the 'film set lingo'. He had a calm cool style. An approachable nature. We spoke again. He surrendered the names of some shows he'd appeared in. I hadn't heard of any of them but that was okay because I could only get TV reception by putting my bare foot on the antenna input of my TV. By acting as a grounding source I could enjoy 3 channels. One channel was in Italian. I don't speak Italian but grew to enjoy the sound of it. Anyway none of this could side-track me from knowing he was famous.
Wow, such a pro, I thought. So 'famousy', so 'uniony'. I was so happy to have met him.
Many years later, at my first ACTRA gathering, 'famous guy' was the first to greet me and make me feel welcome. He also borrowed money but I had forgotten about that until now. (That was me kidding.)
Thank you so very much Wayne Robson, for having given us all that feeling of warmth and welcome that was so consistently your good nature over the many years we knew each other. And 1000 ACTRA credits for all of the laughs!
You will be fondly remembered.
Sandi Ross
January 23, 1949 - August 31, 2016
Sandi Ross passed away peacefully at home on August 31, 2016 at the age of 67. She was President of ACTRA Toronto from 1994-1996, the first woman and the first person of colour to hold the position. She was named ACTRA National's Woman of the Year in 2012. She received Women in Film and Television's Crystal Award in 2008 and Skills for Change's New Pioneers Award for the Arts in 1993. She is listed in Chatelaine's Ninth Edition of Who's Who of Canadian Women.
Sandi earned her BFA at the University of Minnesota and worked as an actor on stage and screen to the end of her life, appearing most recently in Patriot, Country Crush and as Aunt Ruth in Rogue. Some of her favourite performing experiences on stage were in The Seahorse, Ain't Lookin' directed by George Luscombe, Three Men on a Horse directed by John Hirsch, Much Ado About Nothing (Stratford and New York), The Coloured Museum directed by Martha Henry, The Vagina Monologues, Joe Turner's Come and Gone in Minneapolis, and Amazon Dream directed by Ken Gass. In film and TV her favourites included Suspect, The Taking of Pelham 123, Twice in a Lifetime directed by David Winning, Down in the Delta directed by Maya Angelou, The Natalie Cole Story directed by Robert Townsend, Guilty as Sin directed by Sidney Lumet, Raisin in the Sun, Adventures in Babysitting, Medium Raw for which she was nominated for a Canadian Comedy Award in 2011 and Trailer Park Boys.
Sandi was the Founding Editor of ACTRA's Into the Mainstream diverse talent directory which became Mainstream Now before it went digital as today's diversity.ACTRAonline.ca talent database. She volunteered her wisdom and passion to many organizations: The Canadian Advertising Foundation's Race Relations Advisory Council on Advertising, The Racial Equity Committee of the Canada Council, The National Advisory of the Canadian Film Centre, Theatre Ontario's Cross Cultural Advisory Committee, and the board of Equity Showcase, among others. She was one of the founders of Obsidian Theatre and served on the Canada Council, the Ontario Arts Council, the Toronto Arts Council and the Laidlaw Foundation.
Change followed in her wake.
AUGUST SCHELLENBERG (1936 - 2013)
August Schellenberg
July 25, 1936 – August 15, 2013
ACTRA Toronto mourns the passing of a great Canadian actor and former ACTRA Toronto Councillor ('91-'93), August Schellenberg.
Working in Canada and the U.S., Augie, as he was known to friends, was perhaps best known for his roles in Free Willy and Bury My Heart at Wounded Knee. His many awards and nominations include two nominations for ACTRA Nellies (One Man – 1971 and Tramp at the Door – 1986), an Emmy nomination for Bury My Heart at Wounded Knee – 2007, a Genie Award for Black Robe – 1991, and two Genie nominations (The Coffin Affairs – 1981; Latitude 55 – 1983), a Gemini Award for The Prodigal – 1986, and a Gemini nomination for North of 60 – 1996.
Born in Montreal, Augie identified as Mohawk and Métis. He was an early graduate of the National Theatre School in 1966 in the same class as Anne Anglin and James Blendick. One of his earliest jobs was a school tour with the seminal Canadian theatre company, The Crest. His star rose after his performance in the ground-breaking production of The Ecstasy of Rita Joe in Vancouver at the Playhouse Theatre Company in 1967. His stage work took him to Stratford, Shaw, The Guthrie and the Dallas Shakespeare Festival. He enjoyed a career on stage and screen that spanned a full 45 years. In one of his last performances, directed by Peter Hinton, he realized a life-long dream of playing the title role in an all-Aboriginal production of King Lear at the National Arts Centre. A teacher, he was a treasured mentor to many of Canada's First Nation actors. He is survived by his wife, Joan Karasevich (also a former ACTRA Councillor), and three daughters.
A great tree has fallen.
MORRIS SPECTOR (a.k.a. RUMMY BISHOP) (1918 - 2012)
Morris Spector (a.k.a. Rummy Bishop)
July 30, 1918 – August 6, 2012
Over the last 30 odd years, Rummy and I dotted each other's "I"s and crossed each other's "T"s.
A look, not words, told each of us how to react to any given situation.
"We were simply as one." People would constantly ask me, is he always this funny? My reply was, "Of course."
In reality, Rummy was comfortable at home, with my straightforward approach, and in return complimented me, and kept me on an even keel, with his easy and gentle manner. We truly were salt and pepper to each other.
Rummy's best days were when the call came in for an audition. This was his life's blood. No matter how he felt, good or bad, he never wanted to miss an audition.
When Rummy was born, he didn't cry, he laughed, and he continued to do so for a lifetime. Rummy was a consummate showman. More than anything he needed to entertain. This was his greatest love.
Rummy entertained on many levels – stage, TV, films, and voiceovers, but he always regarded himself first and foremost as a stand-up comedian. He was at his happiest performing his shtick to an adoring audience.
Rummy now joins his family in a "Higher Power," and, of course, we know he will have them laughing in the aisles.
I will miss him terribly, but I take comfort in knowing he is now at peace.
"Goodnight Mr. Calabash wherever you are."
The Spectors and Carole Tyson
Thank you ACTRA for all you did for Rummy.