SESSION RECORDINGS NOW ONLINE!
---
Thanks to all the Conference Committee members, volunteers, panelists, partipants and our generous sponsors for making our 2022 Winter Members Conference a success!
All Conference sessions were live captioned and links to the recordings are available below.
DISCLAIMER
Views and opinions expressed by guest panelists are solely their own and do not necessarily reflect those of ACTRA Toronto. ACTRA Toronto assumes no responsibility or liability for any errors or omissions in the content of these video presentations. The information contained in the Winter Conference session videos on this page is general in nature and provided by ACTRA Toronto on an "as is" basis with no guarantees of completeness, accuracy, suitability or timeliness. Consult with professional advisors familiar with your particular situation for advice concerning specific matters before making any decisions.
---
Click the buttons below to find a session recording
---
CONFERENCE SESSIONS
THE 30 SECOND STORY: Auditioning Virtually for Commercials
Commercial casting brings a unique challenge to performers: tell a story in 30 seconds or less. Although self-tapes and virtual auditions can add to the challenge, we can learn to work with them and book the gig! Hosted by Victoria Murdoch, this 90 min session features Casting Director Shasta Lutz of Jigsaw Casting, working with four experienced commercial performers. Together they'll walk us through the virtual audition process from pre-recorded self-tape to live Zoom callbacks—giving you a behind-the-table look at how to successfully audition virtually for commercials. This mock virtual audition process will be followed by an open Q & A. So grab a coffee, get your questions ready, and join us at 9am!
Shasta Lutz (she/her) @Jigsawcasting
Shasta owns the joint. She built Jigsaw Casting from scratch. In 1996. Solo. Under Shasta's wing, clients are assured access to the best negotiator in town who is an expert in all the rules of engagement, all the while benefiting from her long-standing industry relationships. Her thumbprint is on every aspect of each casting experience: aiming for best performers turnout, ever mindful of budgets, and always creating space for fresh faces.
HOST
Victoria Murdoch (she/her) @Vic_Murdoch
Victoria is an award-winning actress on both stage and screen. Trained in theatre, improv comedy, and voice-over, her skills have been put to work in LA, NYC, and her home base of Toronto. She continues to work with a number of touring theatre productions and live events as well as performing as Host of long-running Horsepower Live at the Canadian National Exhibition each summer! Follow her on social media as @Vic_Murdoch and see more at www.VictoriaMurdoch.com.
Statement from ACTRA Toronto Council:
ACTRA Toronto Council strongly condemns all forms of discrimination. ACTRA conferences, workplaces and events are intended to be harassment and discrimination free zones.
Although we are grateful for the time and Commercial Casting advice that Ms. Lutz shared with the ACTRA Toronto membership, there are several opinions expressed by Ms. Lutz in this conference session that do not represent the values and beliefs of ACTRA Toronto. We empathize with any members who have been negatively affected by the opinions expressed by Ms. Lutz in this conference session.
After deep consideration and discussion, we, the ACTRA Toronto Council, have made the decision to leave the unedited recording up on the ACTRA Toronto website, with added trigger warnings placed throughout. Ms. Lutz and the Casting Directors Society of Canada have been made aware of this decision and the condemnation of these opinions.
Please note the following trigger warnings: cis-sexist, ableist, and racist biases, and accent discrimination.
ACTRA Toronto recognizes the history of discriminatory biases and prejudices that have had profound negative effects on the mental and financial health of Black, Indigenous, Persons of Colour, 2SLGBTQIA+performers, and Performers living with Disabilities. It is our goal that, with the Casting Director Society of Canada, we can use this opportunity to examine and dismantle the power dynamics that have allowed these practices to continue for so long.
Further Reading:
After watching the above video, ACTRA Toronto would like to encourage you to delve further into some of the topics described, to learn more and perhaps challenge your current understanding of the world around you.
Read more about unpacking bias…
---
TAX STRATEGIES ACTORS NEED TO KNOW
With Tax Season rapidly approaching, now is the time to look at your tax situation and ensure you understand all deductions you may be entitled as a professional actor. Join entertainment accountant extraordinaire Kelly Ross for this highly informative and practical in-depth session. You'll learn about tax preparation, deductions, tax deadlines, HST, how to handle grants, government assistance, COVID-assistance programs previously and currently available, T4s, and more. A can't miss session for all, as we all have to file taxes.
Kelly Ross (she/her)
Kelly Ross is the Managing Director and CEO of Ross Professional Corporation. She is a member of CPA Canada, leading with strength, knowledge, and passion, having over 20 years of experience in accounting and taxation. Throughout her career, she worked in a multinational CPA firm, then moved on to be a subject matter expert for the development of an accounting program at a college. Kelly's interest and passion for accounting came from her mother whose career was in the accounting realm. Kelly also has a love for the arts and entertainment industry, which stemmed from having a father who had talent and a love for music. Kelly herself played the piano, trumpet and was a dancer through her early years. Now in her downtime, Kelly can be found around the hockey rinks supporting her daughter's hockey team and following her nephews in their live band performances. She is truly a people person and has a special skill making everyone she meets feel special.
---
ANNUAL GENERAL MEETING
All ACTRA Toronto members are invited to our Annual General Meeting to hear about the industry, work opportunities, and your new Council's Operating Plan.
---
CASTING RUN THE BURBS: From Script to Screen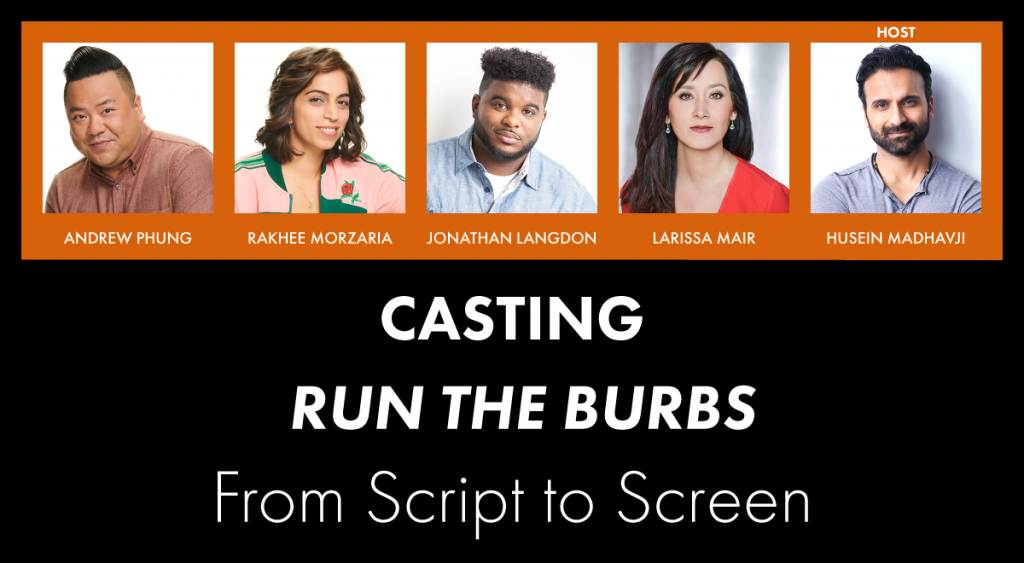 From the outside, casting can seem like a strange and mysterious process. But there's a delicate art to creating an ensemble that really works together. That's especially true for the groundbreaking CBC original comedy Run the Burbs, where the cast feels like a true family and community.

Created by comedian, writer, and actor Andrew Phung (Kim's Convenience), Run the Burbs follows the Phams, a young, bold Vietnamese-South Asian-Canadian family taking a different approach to living life to the fullest while changing the way we think about contemporary family values and life in the suburbs.

Join us for a lively discussion with the cast, creatives, and casting director to hear about the process of bringing the team together and then bringing it all to life on set.
PANELISTS
Andrew Phung (he/him) – Andrew Pham, Executive Producer, Co-Creator, and Writer
Andrew Phung is an award-winning actor, improv comedian, emcee, and writer. His infectious and relatable personality has made him one of Canada's top comedic performers. His work on Kim's Convenience has earned him four Canadian Screen Awards (2017, 2018, 2020, and 2021) in the category of Best Supporting Actor in a Comedy Series.
Andrew's recent television and film credits include The Beaverton, Events Transpiring, Wyonna Earp, and factual series The Canadian Improv Games, where he served as the host, and won a Canadian Screen Award for Best Host – Digital Series. He can also be heard on CBC Radio as a regular contributor to Now or Never, The Debaters, and Because News.
He is a father to wonderful boys, husband to the amazing Tamara, and proud owner of over 500 sneakers…seriously.
Rakhee Morzaria (she/her) – Camille Pham
Rakhee Morzaria is an actress and comedian who produced, wrote, and starred in the Canadian Screen Award and Canadian Comedy Award-nominated web series, Note to Self about the daily adventures of an overconfident second-generation millennial.
Rakhee has performed at the Toronto Fringe Festival, Toronto Sketchfest, SheDot Festival, Hart House Theatre, and Bad Dog Theatre. She is a graduate of Factory Theatre's artistic training program, Second City's Conservatory, the Second City Bob Curry Fellowship Program, and she has performed in various shows with the company. Her on-screen credits include Global TV's Private Eyes, FX's What we do in the Shadows, and Hudson & Rex.
Her comedy has been featured at the WIFT-T showcase, Atlantic Film Festival, and the National Screen Institute's Film Festival.
Jonathan Langdon (he/him) – Hudson
Raised in Pickering, Ontario, Jonathan Marcus Langdon always had a dream to make people laugh as a full-time profession. It wasn't until his time at the University of Toronto, when he was given the chance to perform in the sketch troupe, Kathleen Turner Overdrive!, that he felt he could make his dream a reality. It was also during this time that he met the beautiful Christina and graduated with an Honors Bachelor of Arts degree in English and Drama. With his future wife by his side, he continued pursuing his dream, which led to winning awards at the Toronto Sketch Festival, as well as the spin-off troupe Reverse Oreo.
Jonathan continued to further his education and graduated from the Ontario Institute for Studies in Education with a second degree. With his Bachelor of Education, Jonathan became an elementary school teacher to help kids and make them laugh, just like an amazing teacher helped him when he was a child. During this time, Jonathan was asked to join the multi-award-winning Toronto sketch troupe The Sketchersons – who he wrote for & performed with weekly for 4 years. He also married Christina, all while pursuing his degree in education.
Jonathan has appeared in various TV/Film productions such as Ricky Gervais' Special Correspondents, Sensitive Skin alongside Kim Cattrall and Don McKellar, a YTV series called The Game alongside Samantha Bee and Jonathan Torrens, and was a series regular on The CW's No Tomorrow, as the loveable and hilarious Hank. These days, Jonathan can be seen in the feature films Killer High, Buffaloed and Crossword Mysteries, Disney's movie trilogy Zombies as Coach, and stars as the lead in Bounce TV's Faith Heist. On the small screen, you can see Jonathan in American Gods, But I'm Chris Jericho!, In Contempt, and as series regular Lou in the AMC's N0S4A2.
Larissa Mair (she/her) – Casting Director
Larissa has been casting films, television, commercials, and theatre for over 20 years. She has always focused on inclusion and diversity in the casting process. She has discovered many fresh faces in the industry, who have launched to great success.

Recently, she finished casting the Feature film Hello Stranger starring Simu Liu, Sam Worthington, and Jordana Brewster. She is casting an animation series for Treehouse, Builder Brothers Dream Factory. Production just wrapped on the film she cast Relax, I'm From The Future starring Jumanji and Flight Of The Concords actor Rhys Darby, and Possessor and Twenties star Gabrielle Graham, distributed by Universal Pictures Content Group.
Larissa recently finished casting projects; Tallboyz (CBC), Kids in the Hall (Amazon), Take Note (NBC Universal), Hardy Boys (Season 2) (YTV/HULU), Homeschooled (CBC), and an animation series, Summer Memories (Family Channel).
Larissa has enjoyed casting many movies over the years and her biggest joy is giving people work. She is grateful everyday to have the job she has and the incredible team she gets to work with on a daily basis.
Larissa's website: www.larissamaircasting.com
HOST
Husein Madhavji (he/him – Saving Hope, Utopia Falls)
Stage and screen actor Husein Madhavji has taken on diverse roles throughout his career most notably playing Dr. Shahir Hamza for 5 seasons in the hit hospital drama Saving Hope, and on stage starring in the Soulpepper production of Yasmina Reza's Art. He was also in the Emmy award-winning season of Schitt's Creek. He can currently be seen in the acclaimed Netflix film Donkeyhead and in the animated series Mira, Royal Detective now streaming on Disney+. Prior to his acting career, Husein was a TV presenter where he hosted a daily national entertainment show, interviewing some of the most famous and celebrated faces in the world.
---
#ACTRACON SHORT FILM SCREENINGS
As a special perk, Winter Conference 2022 attendees were invited to enjoy a special virtual #ACTRACon screening of the following films between February 24th to the end of day February 25th, 2022. On the day of the conference, registrants of all conference sessions were sent a password to allow them to access the films during the screening window. Read below to learn more about the films or click on the posters to see their IMDB listings.
FILM – Red String of Fate
outACTRAto 2021 Queer Your Stories Film Competition Winner
Duration: 10:00
Content Warning: This film contains language some viewers may find offensive.
Cast: Onna Chan, Lovina Yavari, Patrick Brown, Melinda Shankar, Michael Gordin Shore, Steve Kasan, Camellia Yavari
Directed by: Lovina Yavari, Lance Fernandes
Written by: Onna Chan
In the year 2090, a robotics engineer tries to bring her fallen lover back to life by merging her lover's soul into an android's body.
---
FILM – Rainbow Baby
Toronto ACTRA Women's Committee (TAWC) 2020 Short Film Creation Lab Film
Duration: 11:33
Content Warning: This film discusses miscarriages, which may be traumatic content for some. The film also depicts the use of alcohol.
Cast:  Kate Fenton, Amanda Cordner, Lisa Michelle Cornelius, McKenzie Cornelius
Directed by: Monice Mustelier
Written by: Kate Fenton
Rainbow Baby is the heartbreaking story of a couple trying to heal after a devastating miscarriage while running an ice cream shop, no less. 20% of all pregnant women have miscarriages, but the loss and the grief are so uncomfortable that even in this day and age, women are still encouraged not to share the news of their pregnancy until they've reached the 12-week mark. Rainbow Baby is a short film that inspires us to laugh through our tears and in the most 'Chekovian' way, find humour in our deep dark pain.
---
FILM – Body So Fluorescent
Inside Out and outACTRAto 2020 Queer Your Stories Film Competition Winner
Duration: 09:34
Content Warning: This film contains language some viewers may find offensive and depicts the themes of racism and sexuality, both visually and verbally. It also depicts the use of alcohol and contains moments of flashing light effects.
Cast: Khadijah Roberts-Abdullah, Amanda Cordner, James Gibson-Bray, Ucal Shillingford, Eric Rich, Jo Vannicola
Directed by: David di Giovanni
Written by: David di Giovanni and Amanda Cordner
What starts as two friends, Shenice (Amanda Cordner) and Desiree (Khadijah Roberts-Abdullah), going out for a fun night of dancing slowly descends into a nightmare of insidious proportions. Body So Fluorescent is a short film that aims to crack open conversations surrounding the appropriation of black femaleness, racism within the cis, white, gay community, and the boundaries of friendship.
---
CONFERENCE SPONSORS
---