Latest Measures, Advice and Restrictions
Visit the Government of Ontario Covid-19 public health measures and advice webpage.
---
Stop the spread of COVID-19
Please continue to take care and be vigilant in following health and safety protocols at work and best practices at home:
What are the best steps to stop the spread of COVID-19 and protect your health?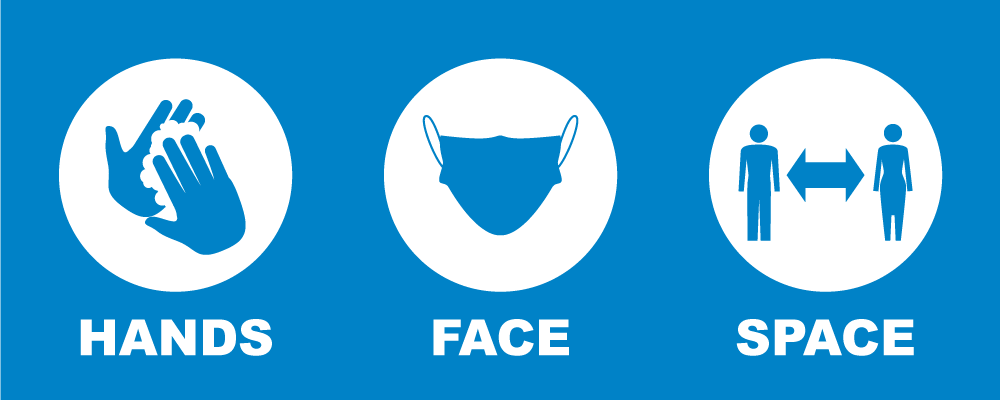 Maintain physical distance (Keep 6 ft/2m apart)
Wear a mask
Wash your hands
Follow the protocols and practices for wardrobe, props, barriers for any scenes that require being in close contact with others.
ACTRA Toronto continues to support and adhere to all public health advisories and legislation regarding Covid-19 and vaccination, and encourages all members to get vaccinated if they are medically able and to continue to adhere to the safety protocols that have been so successful to-date in the industry. For more information, see our Vaccination Policy and FAQ page
IMPORTANT: ACTRA does not create on set safety policies. The obligation to create health and safety policies, including Covid-19 policies, rests with the individual producer and engager. ACTRA is actively engaged in ensuring the health and safety of our members on set and will challenge any policy deemed to be unreasonable or discriminatory under the Human Rights Code.
The Government and the Human Rights Commission continue to allow employers to have vaccine mandates in the workplace. We continue to remind Productions that if they have a mandate in place, to disclose it to the Performer in the audition breakdowns or prior to bookings.
Additionally, in Ontario the definition of up to date "means a person has received all recommended COVID-19 vaccine doses, including any booster dose(s) when eligible."
Use our handy online checklist (below) to create your own COVID kit and check out ACTRA Toronto's COVID-19 Best Practices page.
Be "Ready to Roll" with a personal COVID-19 kit
Review the Ministry of Labour Section 21 Guidelines and ACTRA Toronto's COVID-19 Best Practices page. Then, consider putting together your own COVID-19 set kit. Here's how:
CREATE A COVID-19 SET KIT
---
Include the following:
a mask
a reusable water bottle
hand sanitizer
a few sterile wipes
reusable cutlery
a pen
snacks – e.g. granola and energy bars
---
Mental Health Resources
In these times, reaching out for support and looking after your mental health is so important.
City of Toronto COVID-19: Mental Health Resources
It's OK not to feel OK

Many people may feel sad, stressed, anxious, confused, scared or angry during the COVID-19 pandemic. These are normal and common responses to unexpected or stressful situations.

Support is available. At the beginning of the pandemic, the City of Toronto partnered with 13 organizations to help connect residents to free telephone, text and online mental health support during the COVID-19 pandemic. On April 16, 2021 the City announced partnerships with an additional 18 organizations to ensure that residents have increased access to mental health resources…
VISIT THE CITY OF TORONTO COVID-19: MENTAL HEALTH RESOURCES PAGE…
ACTRA Toronto's Mental Health Support page
You can find a list of links to on-line and emergency mental health supports on ACTRA Toronto's updated Mental Health Support page. Please spend the time to see what is available and share with others.
---
What can you expect on set?
Watch ACTRAToronto@work to hear first hand stories of ACTRA performers back at work. From the audition process to sets and studios locally and afar, performers share their experiences and advice.
---
Waiting for a Commercial payment?
Please don't forget to take a picture of your completed contract when working on a commercial and email it to us at nca@actratoronto.com. This helps us to make sure you are paid properly and in a timely manner.
Commercial Cheques
Commercial cheques are not available for pick up but are being mailed to either home or agent, according to the instructions we have on file for you.
---
ACTRA Toronto Business Representatives and OSLOs:
Workplace COVID-19 protocols apply to ACTRA Business Representatives and the ACTRA Toronto Onset Liaison Officers (OSLOs). We are visiting as many sets as possible but are minimizing risks by reaching out to sets remotely too. If you need to reach ACTRA Toronto urgently or have a question for a rep, you can:
call the main switchboard at ACTRA Toronto 416-928-2278
send an e-mail to afterhours@actratoronto.com or
access the HAVEN Helpline (1-855-201-7823) in case of harassment or for mental health support.
---
ACTRA Toronto Service Update
The ACTRA Toronto office is closed to the public. Film and Television production is permitted to continue, however, in accordance with the Film and television industry health and safety during COVID-19 protocol developed by the Section 21 Film and Television Health and Safety Advisory Committee of the Ontario Ministry of Labour, Training and Skills Development.

ACTRA Toronto staff continue to work, mostly remotely, supporting members and productions by continuing to process and to mail commercial cheques and payments and by providing other essential services. Staff will return messages as soon as possible. We appreciate your understanding and patience.
For regular updates and to reach ACTRA Toronto during this period, bookmark this page for links to COVID-19 Resources, recordings of our previous Virtual Town Hall meetings and our COVID-19 Best Practices FAQ or call us at 416-928-2278.
Our phone lines (Main: 416.928.2278, Toll-free: 1-877-913-2278) remain open. Listen to the voice prompts and press zero to leave a brief message. We will return calls according to priority and as soon as possible. Your patience and cooperation are appreciated.
In the meantime, you will get the fastest response to questions and concerns not dealt with on the website by emailing us at info@actratoronto.com.
For mental health support, please call the Haven Helpline at 1-855-201-7823.
---
Advocacy
We remain deeply concerned about the impact of COVID-19 across the economy and are working with all levels of government to provide assistance and financial support. In Ontario, we work with our industry and government partners through FilmOntario.
---
COVID-19 RESOURCES
We encourage all members to follow the advice of health professionals. We appreciate that the current situation is cause for concern and anxiety and are grateful for steps performers are taking to look after each other — providing support to those who are particularly vulnerable in these times.
Links to helpful resources are organized by category below. Click on the category tile to display/hide the list of links in the category.