The ACTRA Toronto Diversity & Inclusion Committee began as the New Standing Committee on Equal Opportunities, founded in 1984 to address the challenges faced by the Physically and Culturally Diverse artistic community within the film and television industry in Canada. We are dedicated to initiating policies and advocating support structures in order to provide a better understanding of the need for change both within ACTRA and the industry at large.
---
Subscribe to Diversity & Inclusion
Stay up to date on ACTRA Toronto's Diversity & Inclusion Advocacy and initiatives
---
---
Initiatives & Discussions
2022 Sandi Ross Awards:  February 17, 2023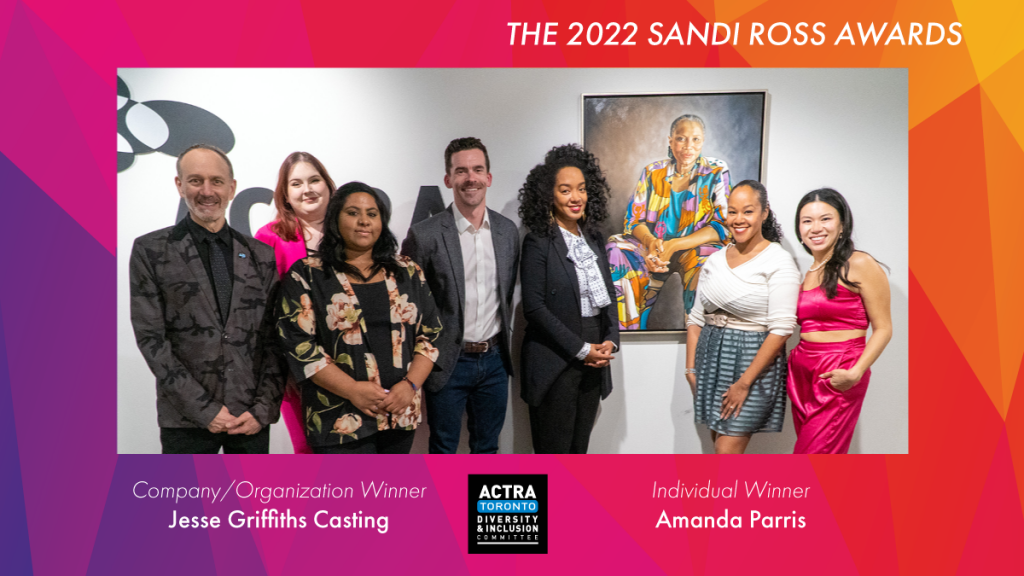 The 2022 Sandi Ross Awards honoured Award-winning writer, producer and television/radio host Amanda Parris and Toronto-based entertainment agency Jesse Griffiths Casting Inc. 
ACTRAToronto@Home Interview with Lisa Michelle Cornelius and Samora Smallwood (former Diversity & Inclusion Committee Co-Chairs).
Learn about barriers that block work opportunities for talented, trained, hardworking BIPOC performers, in this interview with V.P. David Gale.
Town Hall: From words to Action Against Anti-Black Racism and Systemic Discrimination
4th ACTRA Toronto Virtual Townhall – June 18, 2020 – From Words to Action Against Anti-Black Racism and Systemic Discrimination
Diversity.ACTRAonline.ca
ACTRA has created an online searchable database of diverse ACTRA professional performers. diversity.ACTRAonline.ca/ is offered at NO COST to ACTRA Toronto members and our partner agents, Casting Directors and Producers, thanks to the generous support of various sponsors. Register and create your profile today!
---
Ongoing Initiatives
---
Diversity & Inclusion Committee Co-Chairs
Chattrisse Dolabaille is a writer, performer, producer, and proud Torontonian. Giving voice to individuals and communities who have been largely seen as "other" is a personal and professional priority for her. She studied Radio & TV Arts and completed an internship in Washington, DC at the headquarters of Black Entertainment Television before graduating and beginning her professional acting career onstage, then onscreen. Chattrisse is thrilled to co-chair the Diversity & Inclusion Committee with the fabulous and talented Janet Rose Nguyen, working alongside ACTRA to empower storytellers who want our art to reflect real life, since life is so often shaped by the art we value.
Janet Rose is an award winning actress and writer. Her work explores magic, horror, feminism, queerness and the Asian diaspora. An alumnus of the Reelworld Emerging 20 program, she currently serves on the Bursary committee of Firefly Creative Writing. She is currently completing her Screenwriting and Creative Writing degree at York University. She has had roles on indie productions, CBC's Workin' Moms, and Amazon's The Boys. She is overjoyed to co-chair the Diversity & Inclusion Committee with the amazing Chattrisse Dolabaille and work to create a more diverse and inclusive world on and off screen.
---
A Legacy of Leadership
Many thanks to the former D&I Co-Chairs and Diversity Advocates whose work and contributions we continue to build upon:
Jani Lauzon – Diversity Advocate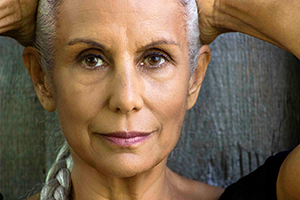 During Jani Lauzon's tenure as Chair of the Diversity Committee and Diversity Advocate, she created the Education and Outreach Initiative by developing partnerships with various films festivals. This initiative included panels, screenings, script development readings and the creation of the August Schellenberg Award of Excellence. The Access-Ability DVD was created to help our physically diverse members gain access to casting directors and agents and to advocate for access to casting facilities and a more supportive audition environment. She helped produce several casting go-sees including the NBC open casting call, along with several events that focused on pairing local casting directors with ACTRA Toronto members from culturally diverse backgrounds. Jani partnered with Second City to gain access to improv training for film actors and stunt performers. Along with Sue Milling, Jani created the digital database diversity.ACTRAonline.ca to help casting directors, directors and producers discover a range of diverse talent within the ACTRA membership. As the Diversity Advocate for ACTRA National, she also created the Advocacy Film Challenge, the Aboriginal Filmmakers Forum, supported the IAMPWD (SAG/AFTRA campaign) and helped create a digital platform called Practical Tips for Auditioning Deaf Actors.
---
D&I Co-Chairs 2018 to 2021
During Lisa Michelle and Samora's tenure as Diversity and Inclusion Co-Chairs, they created and executed the first Demo Reel Initiative, called "A Different Lens", pushed for and supported the creation of the new ACTRA staff position of: "Industry Relations Specialist: Anti-Black Racism, Diversity, Equity and Inclusion", and grew and expanded on initiatives handed down from previous co-chairs including the Sandi Ross Awards, Working the Scene in Colour, and Actors Workshops of Canada events. They also organized interactive Master Classes during past ACTRA Conferences, where performers had the opportunity to act out scenes, receive notes, and build relationships with notable filmmakers such as Sudz Sutherland, Jennifer Holness, and Winnifred Jong.
D&I Co-Chairs 2014 to 2018
During Sedina and Farah's four years as Diversity and Inclusion Co-Chairs, they led the committee in the creation of the Sandi Ross Awards, liaised with Jessica Meya and Louis Taylor in the creation of the committee's partnership with Working the Scene in Colour, led the committee in the creation of the Share the Screen Advocacy video (written by Joella Crichton and Connie Wang, co-produced by Gugun Deep Singh), and created several networking initiatives and social events.
---
Vision
The ACTRA Toronto Diversity & Inclusion Committee is a volunteer committee made up of ACTRA members who are professionals in the media industry, supported by ACTRA staff. As committee members, we envision a better working environment and more opportunities for Physically and Culturally Diverse actors who are ACTRA members. We draw from our personal experiences as members of the Physically and Culturally Diverse community, and/or our knowledge and understanding of the administration at ACTRA to identify and articulate the contemporary challenges in order to then create policy and circumstances to support change. We will use our work to contribute to the long term goal of shifting the consciousness of colonial thinking with the hopeful outcome of an industry and association that is inclusive of all its membership no matter what culture or diverse background.
---
Mission
The ACTRA Toronto Diversity & Inclusion Committee supports the following objectives:
To build policy and initiatives within ACTRA that will help to create a national agenda that includes issues of Diversity.
To liaise with the Physically and Culturally Diverse communities to help identify and articulate current challenges.
To liaise with industry personnel to ensure that they are aware of the issues faced by members of ACTRA who are from Physically and Culturally Diverse communities.
To initiate support structures within ACTRA that directly support the Physically and Culturally Diverse communities in dealing with these challenges.